Local streets, Shanghai, April 2013
I enjoy strolling around in Shanghai, often wandering around without any plan or even following a map..
A great deal is said about China in the news these days, but most Americans don't seem to know much about what day-to-day life looks like in a major modern Chinese city.
These photographs are a random record of Shanghai on a Sunday morning.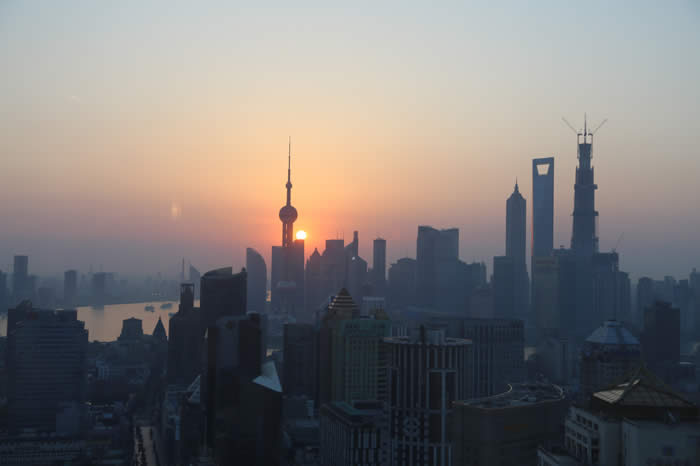 Sunrise over Pudong is always spectacular. This is the view from a high floor on the hotel I generally stay at. (Le Meridien)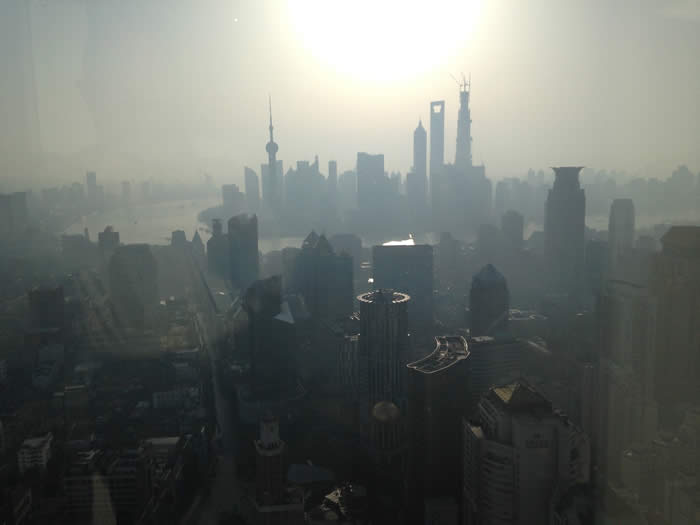 The same view on another morning.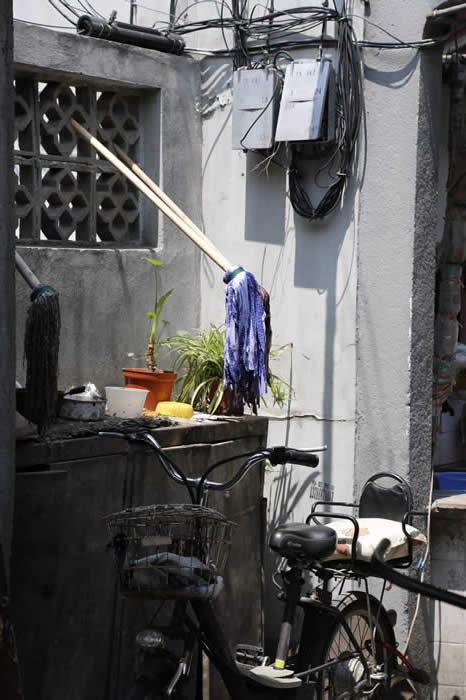 It's possible to get an endless series of snapshot vignettes into the day-to-day ordinary life in Shanghai just by strolling around and looking into doorways.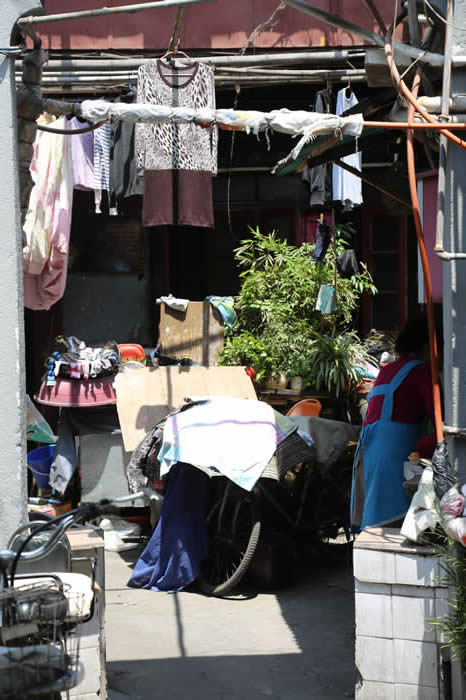 Another example of a household interior, exposed to the streets.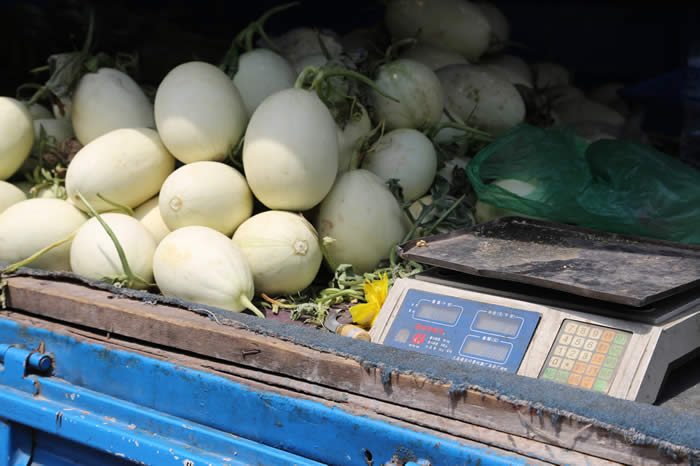 Farmers market, Shanghai style. Farmers frequently just drive their trucks into the city and open them up to sell their produce.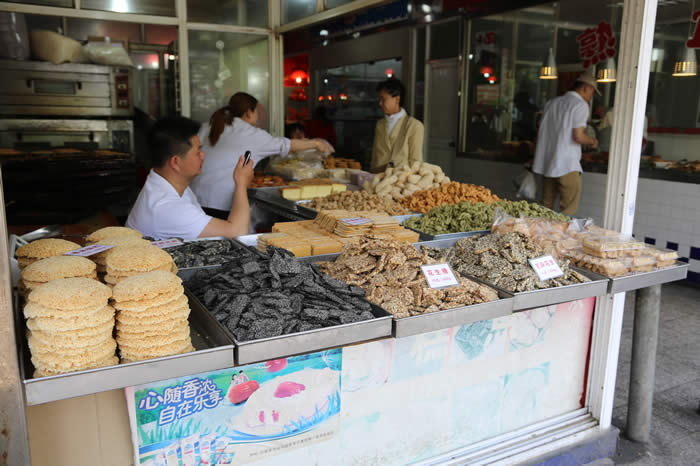 A seed cake vendor.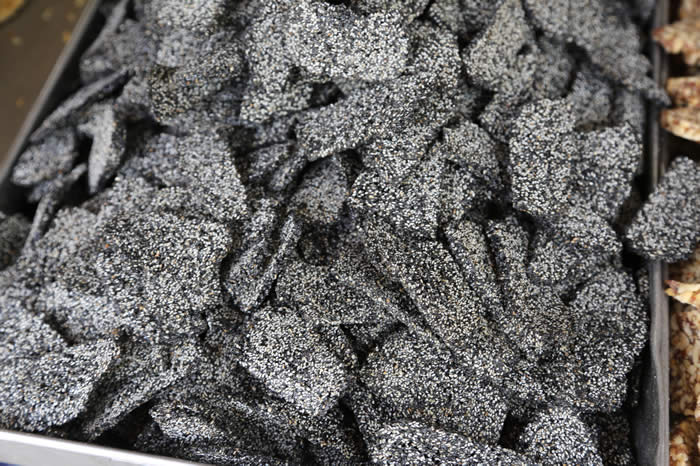 One of the seed cake choices.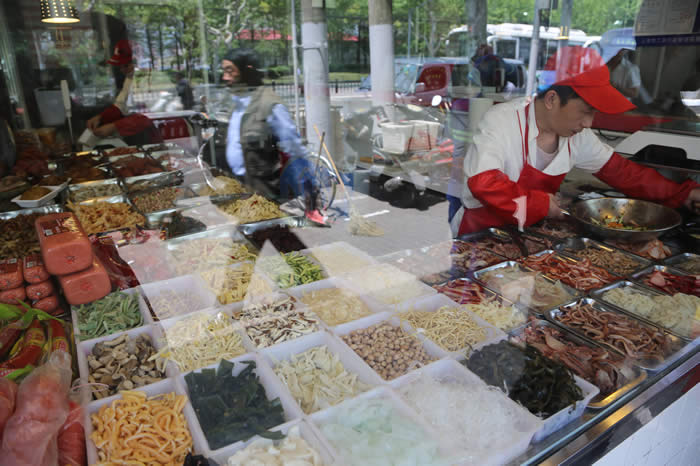 Unlike American restaurants, it's very common for Chinese restaurants to clearly display the fresh ingredients they use to cook with. Unfortunately, even though they place a great emphasis on fresh food, there have been many food contamination scandals in this country recently, to the point that they are importing an enormous amount of their food, since the presumption is that food from other countries is better. China now imports most of the world's milk and pork, and consumes far more pork than any other country.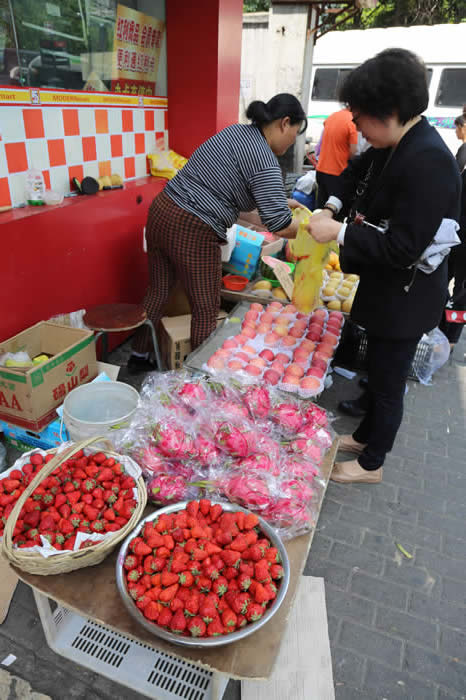 A fruit vendor. On display are strawberries, Dragon fruit (in the plastic bags) apples, and what I believe are mangoes in the background At this time of year (May) very dainty little mangoes are in season.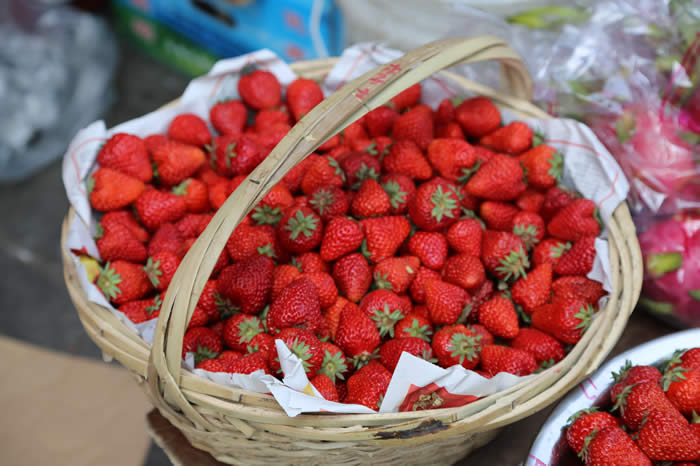 Presentation is important! Asians prize good-looking food. Unfortunately, the chances are that more... and very possibly more harmful... pesticides have been used in growing them. China used to lead the world in organic farming methods, but rapid modernization has resulted in a deterioration in small-scale, organically oriented food cultivation practices, in favor of more damaging industrialized farming.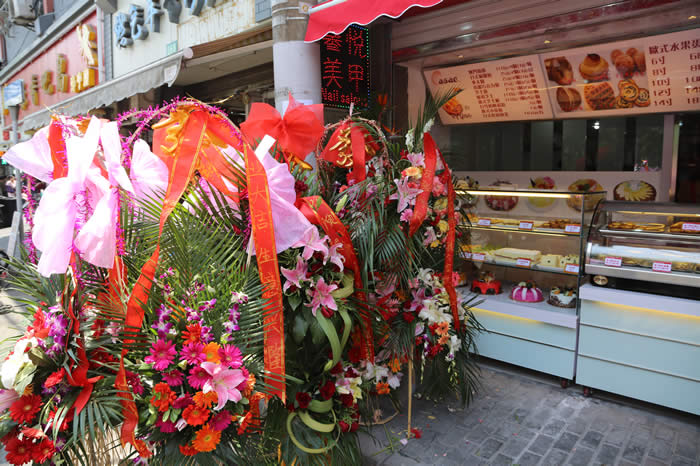 A newly opened bakery featuring the same (unhealthy) sugary baked goods you might find in New York. The enormous floral displays are standard whenever new businesses open. Openings are accompanied by loud fireworks displays.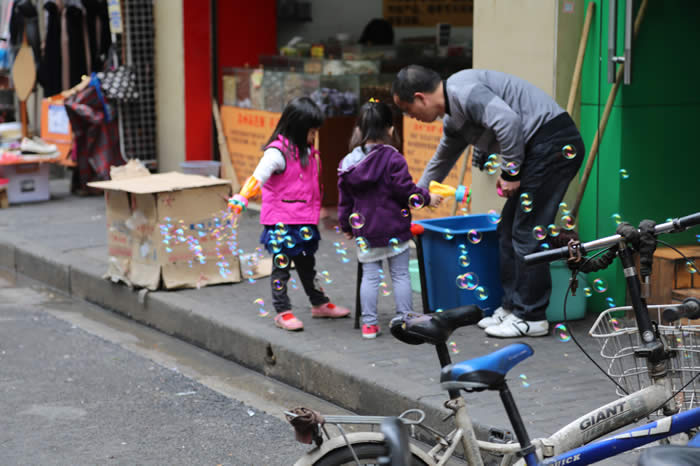 Playing on the streets on a Sunday morning.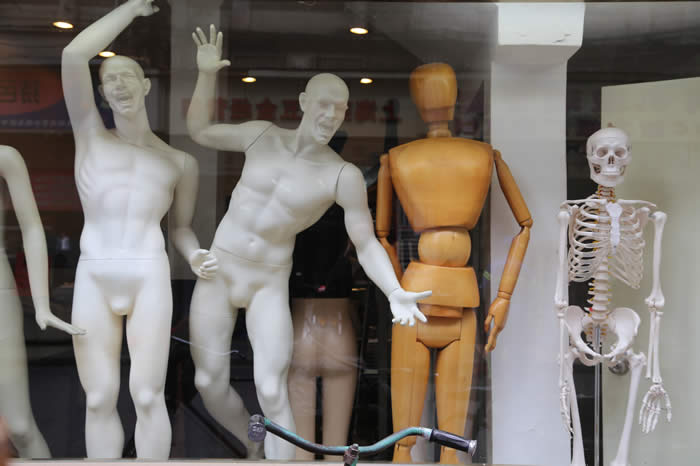 I have no idea what this manikin showroom was thinking when they did this window, but it's certainly striking.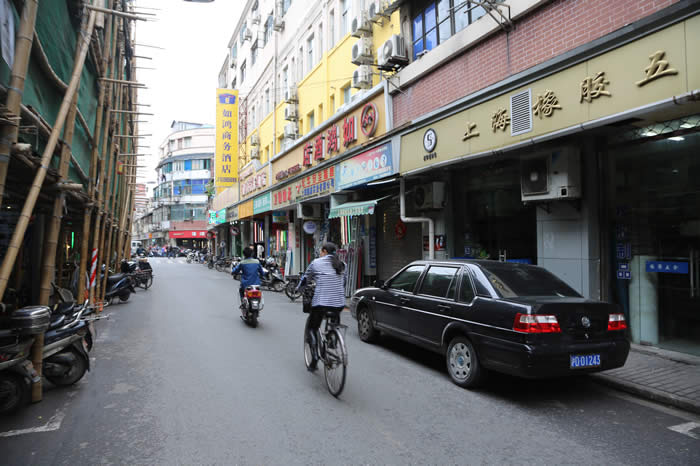 An ordinary street. This modest and unpresuming street, quite representative of Shanghai, is directly parallel to Nanjing Road, the largest and most popular pedestrian shopping Road in the city. The whole point of this street is that there is nothing extraordinary about it— Nanjing road is far more impressive, and is one of the streets tourists love to take photos of. This, however, is what much of the city looks like behind the scenes.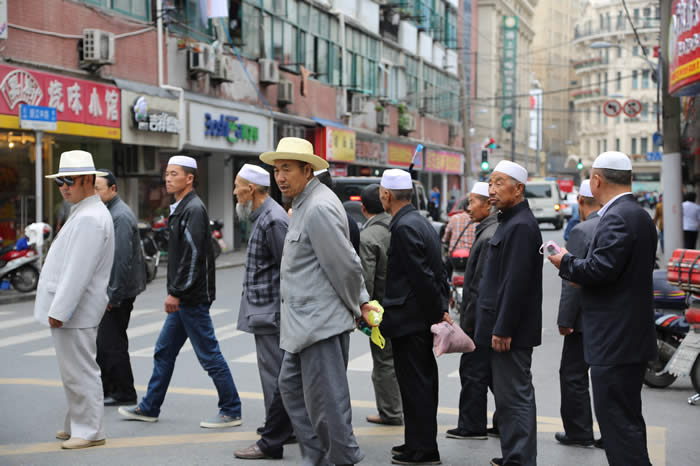 A tour group of ethnic Muslims. All of the women in this group were walking in their own group behind the men. They are almost certainly from western China, an area where there has been considerable ethnic unrest in the recent month.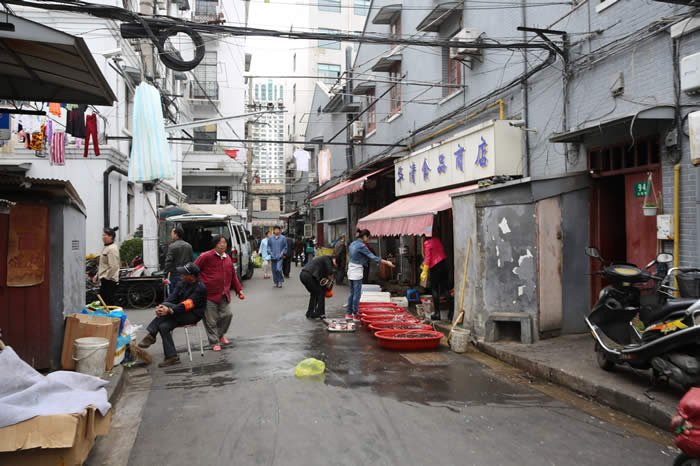 Another back street, with fishmongers.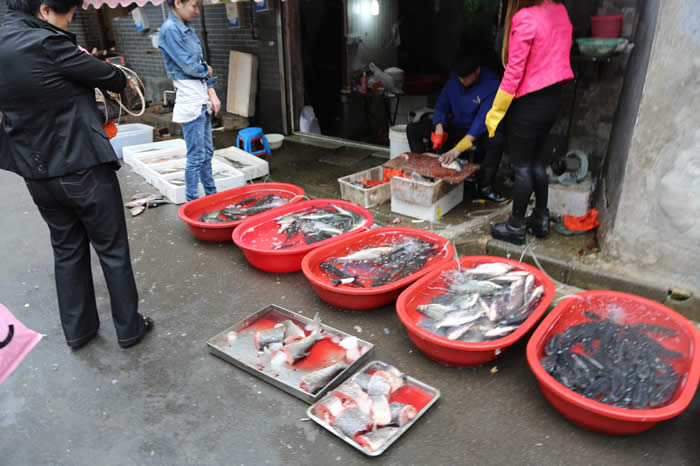 Fish in China is typically sold as fresh as possible, alive preferred.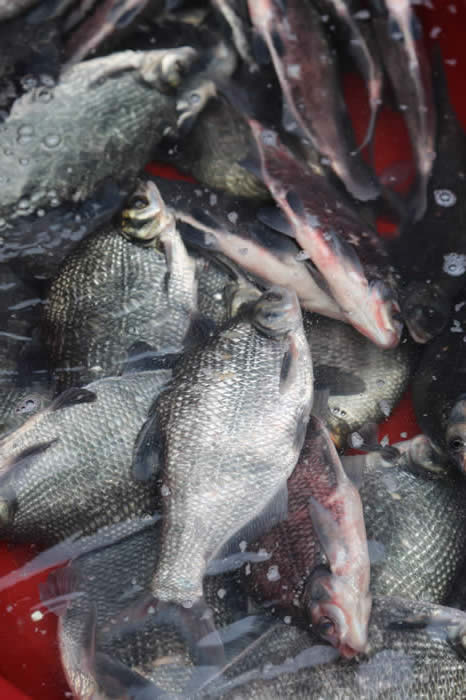 I didn't take a picture of it, but one of the tubs was filled with largemouth bass, of all things.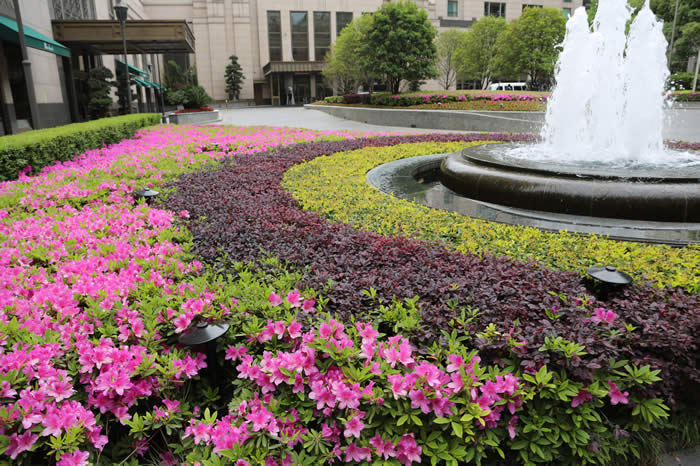 It's not uncommon to suddenly come across charming garden areas with water displays.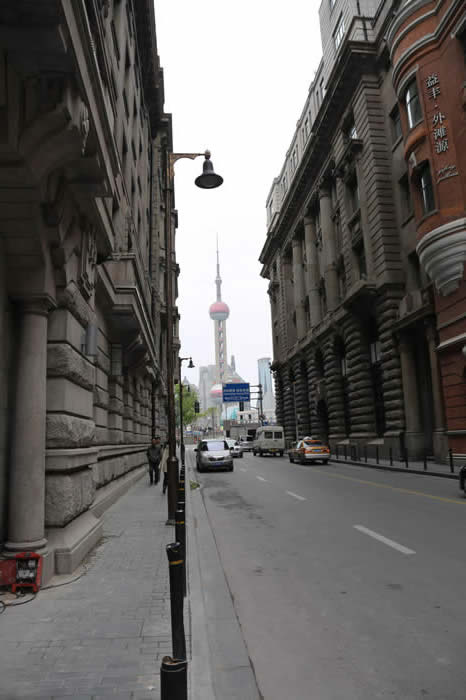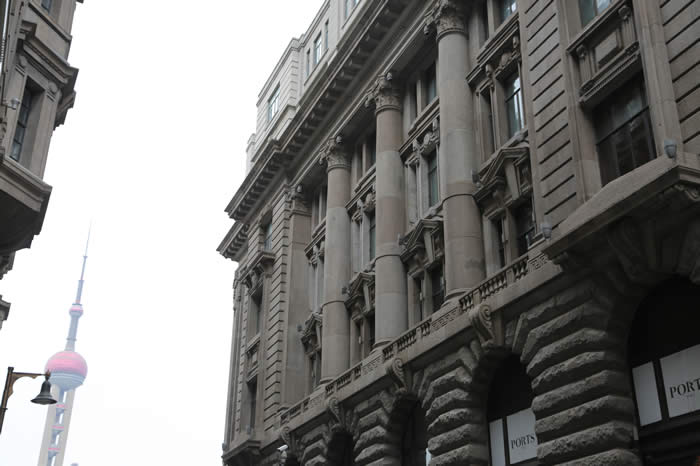 The Bund is populated with dozens, if not hundreds, of huge buildings built by European businesses... primarily banks, traders, and shipping companies... before the second world war, during the heyday of Shanghai as China's commercial trading center.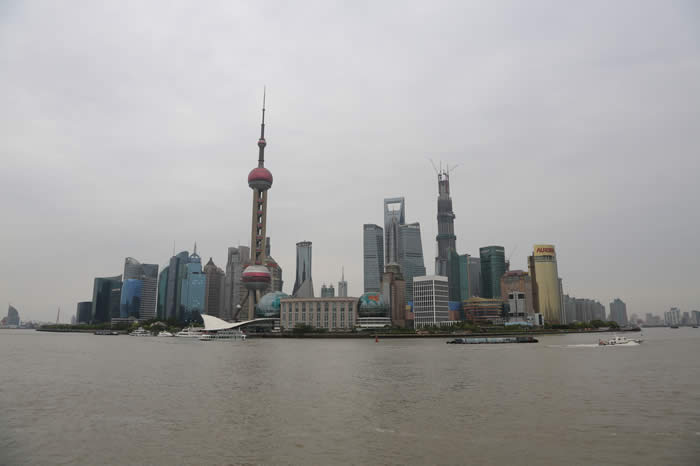 This is "the" view in Shanghai — looking across the Huangpu River towards Pudong, where, on the right, what will eventually be the world's tallest building is going up.
Market crashes in countries usually take place right after they build the world's tallest building. Be prepared.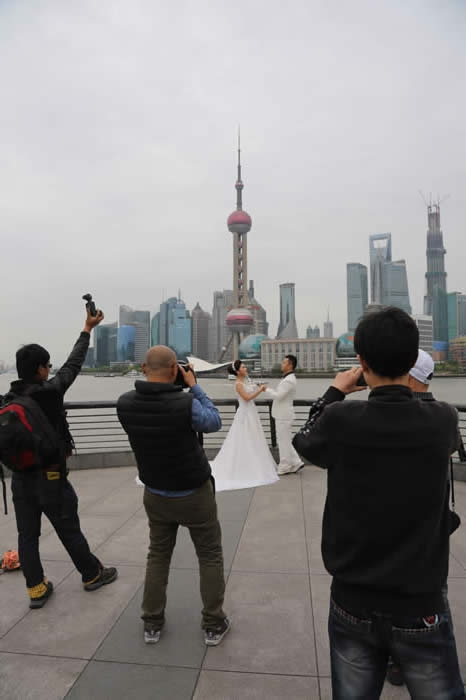 This is a favorite location for wedding photographers.
The Chinese place a high premium on romance, which is why the film "Titanic" did so well in China. If Hollywood targeted the chinese market with more big-budget rmance films they'd do much better than they are currently doing with action movies. The Chinese public are getting notably tired of the endless series of US movies wcomposed of mindless car chases and explosions.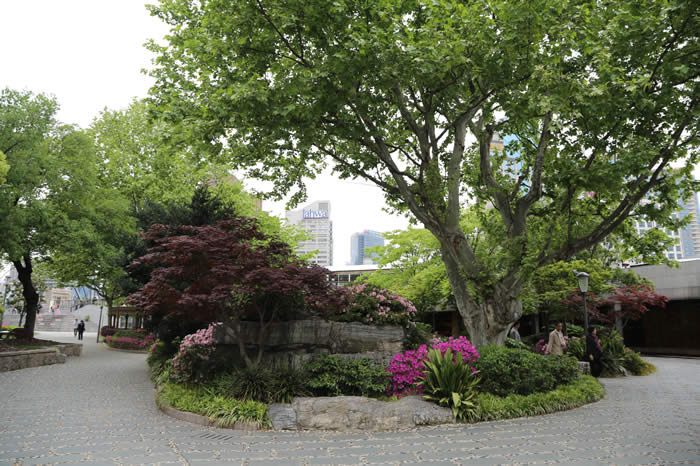 A charming garden on one end of the Bund. The attention the Chinese put into little details of the landscape like this is really quite touching. They are much better at it than we are.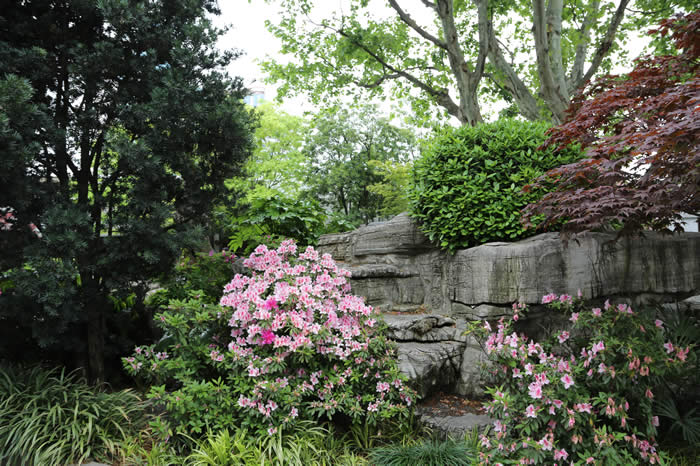 Everything is lovingly sculpted and planted.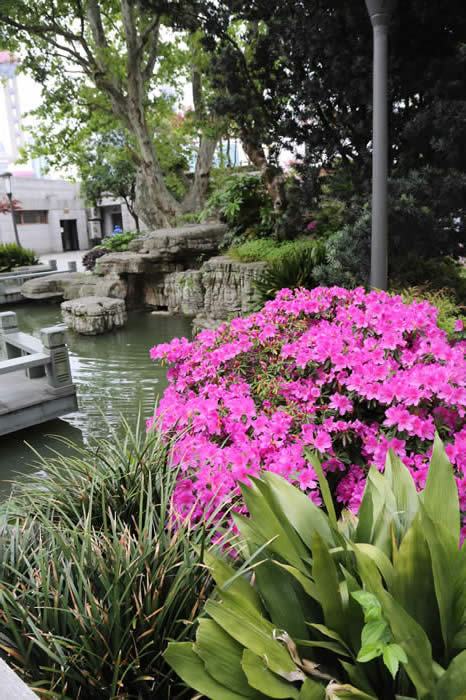 Flowers.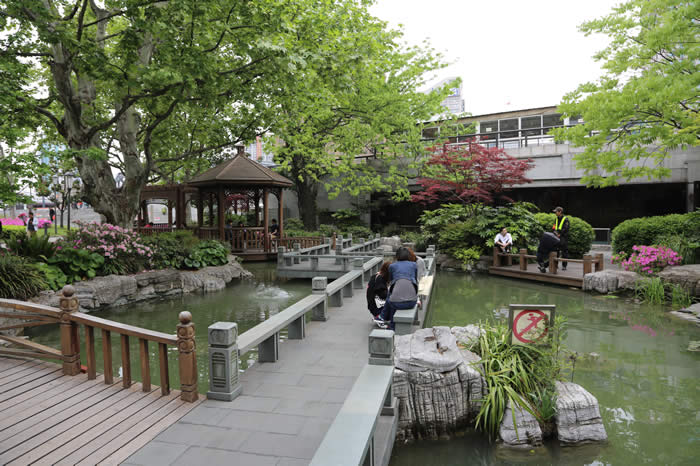 A pond.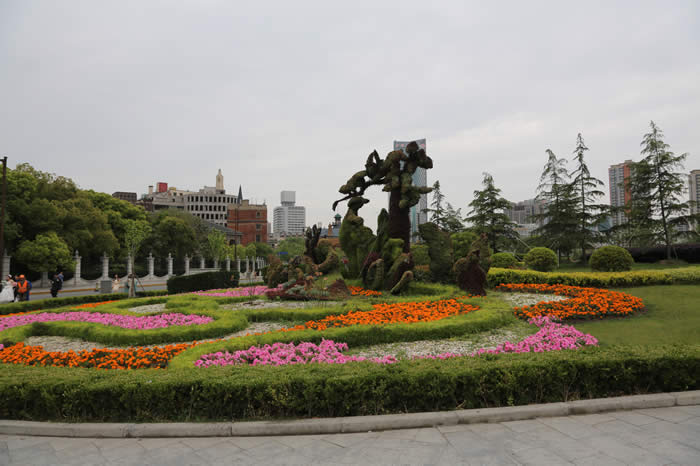 A weirdly disorganized topiary.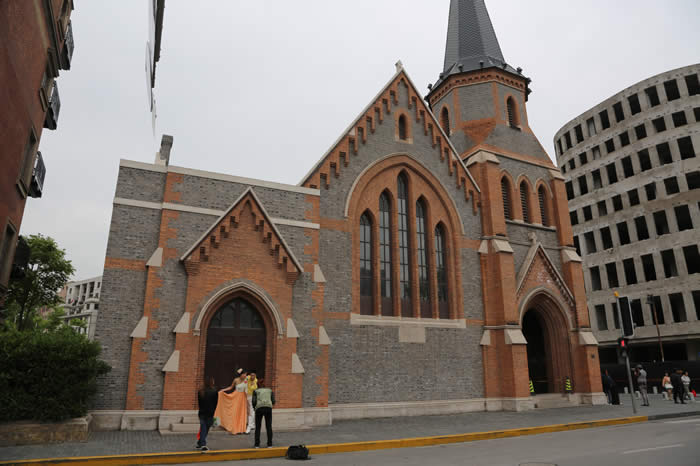 The old Episcopal Church, which is closed for everything but services —from which local Chinese are excluded. Religious proselytizing is strictly forbidden in China.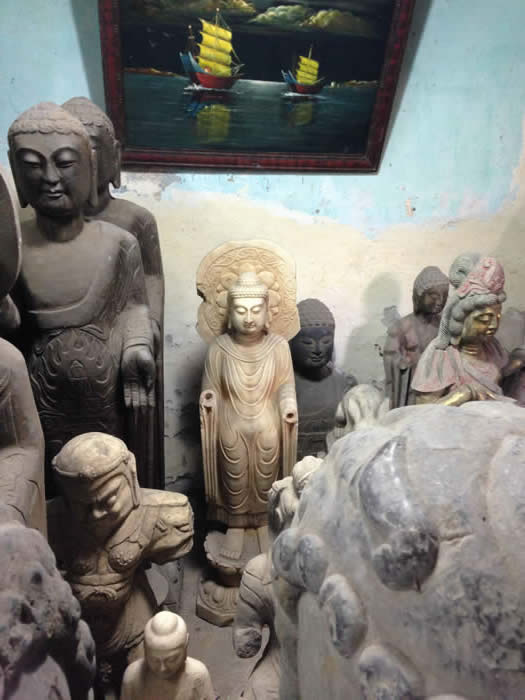 Battered Buddhas for sale at a dealer I know. Most of these are old, but not very old. Many reproductions are made.
One sees a lot of shoe vendors on the streets of Shanghai. This one is outside the old Confucian Temple, which is a serene place to hang out on a quiet day.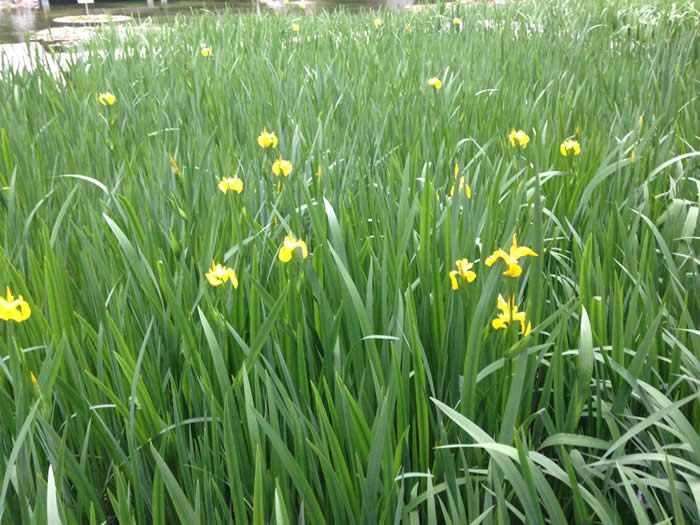 Yellow flag irises in bloom in the middle of a pond in thecenter of the city.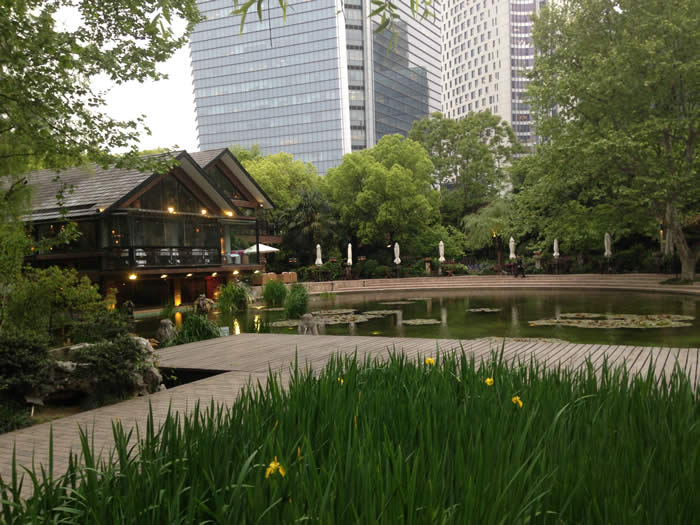 The park with the irises.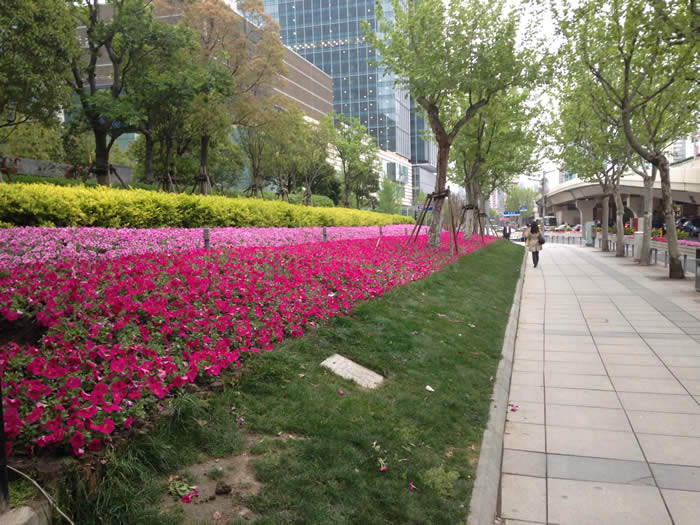 A typical street view in one of the more developed modern areas.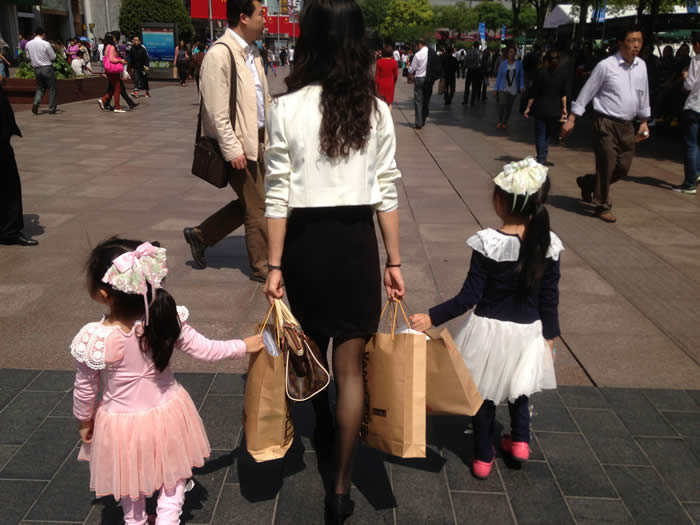 Finally, one shot of the famous (and horrifically crowded) Nanjing road. I thought this mother with her two daughters dressed up for a Sunday stroll was really cute.
Department stores in Shanghai are as modern and striking as any stores in Tokyo or New York.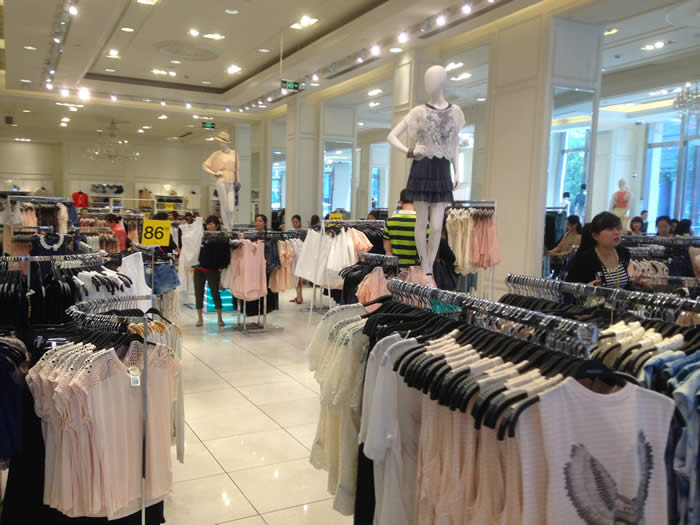 Another view of the store.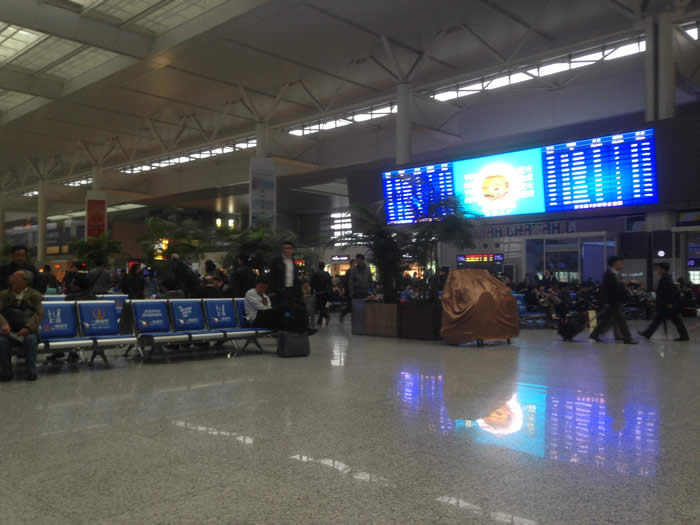 Shanghai has one of the most beautiful modern train stations I've ever been in. Most Chinese cities have train stations any urban planner would be envious of. They have left the west in the dust when it comes to establishing public transporation infrastructure.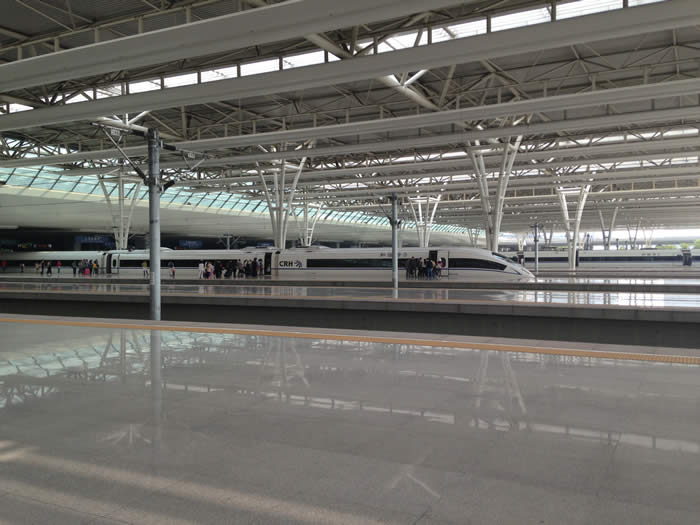 And this is the famous bullet train, transportation far superior to anything you will find in the United States, for certain. We are light years behind them in this area.
I like to collect photos of poor translations. This one means "oceanview apartments."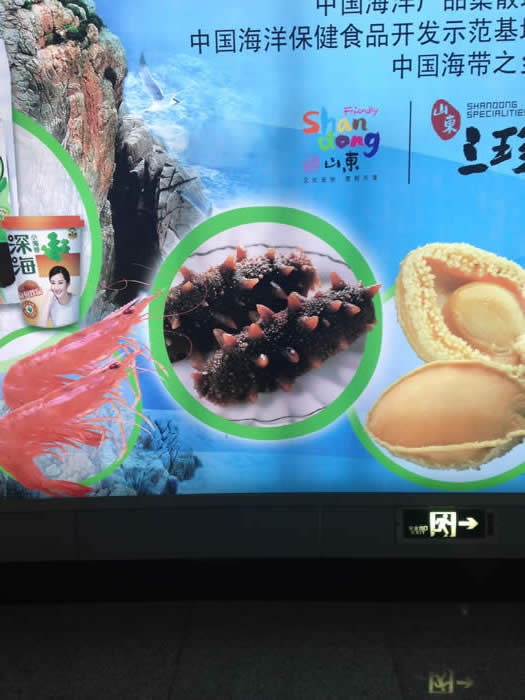 Sea cucumbers
are a culinary favorite here. I actually like them.
Needs no explanation.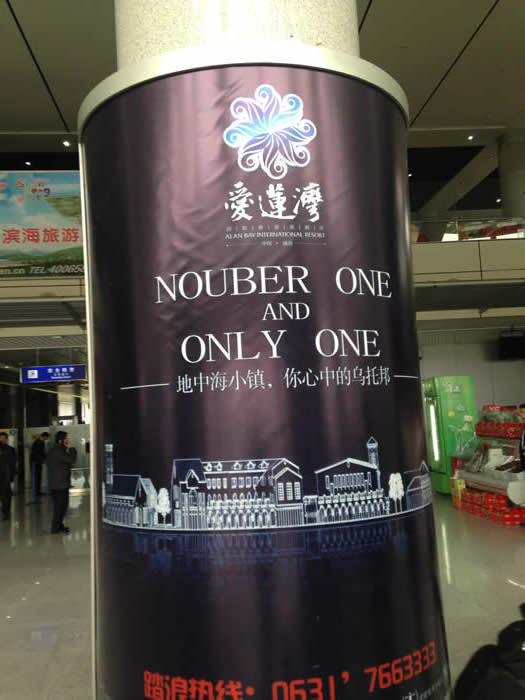 Another delightfully, aggressively misspelled poster. I'll confess — the posters are all from Weihai, a city in Shandong province, but I couldn't resist including them.
Nefersweetie
an incidental web space
created and supervised by Lee van Laer